If you have ever strolled through an Upper Egyptian village, you will have seen them, the Hajj paitings on the walls of family houses.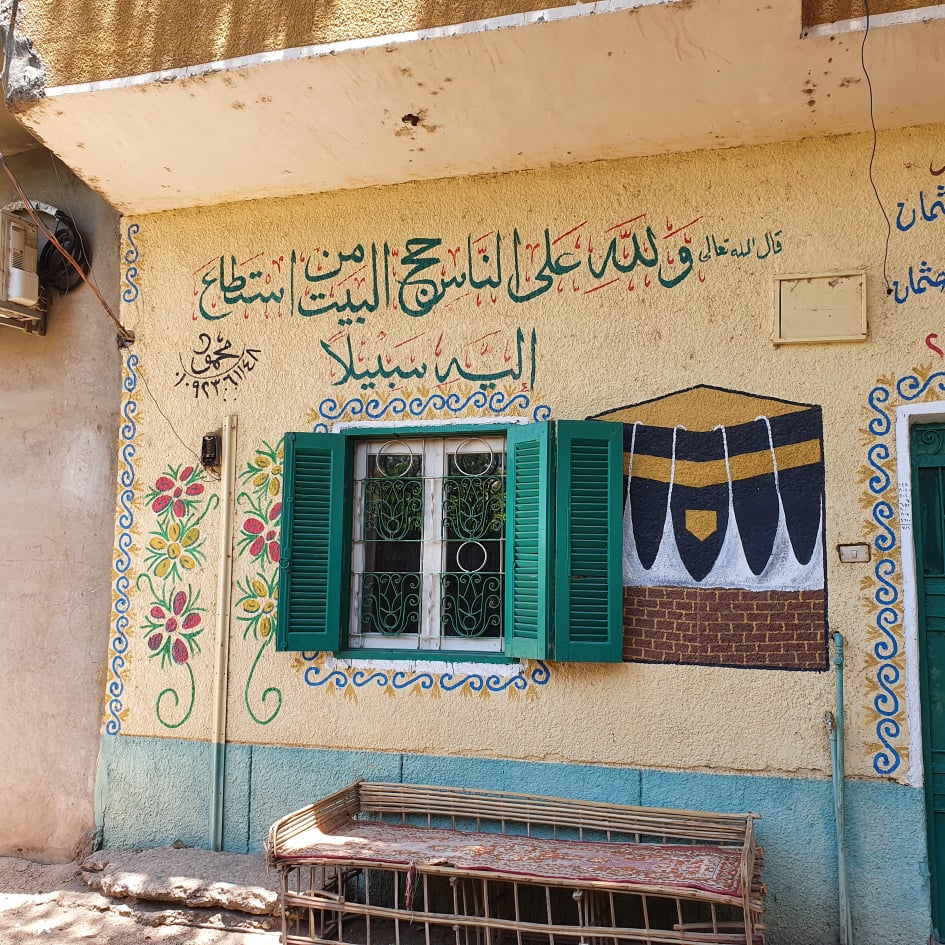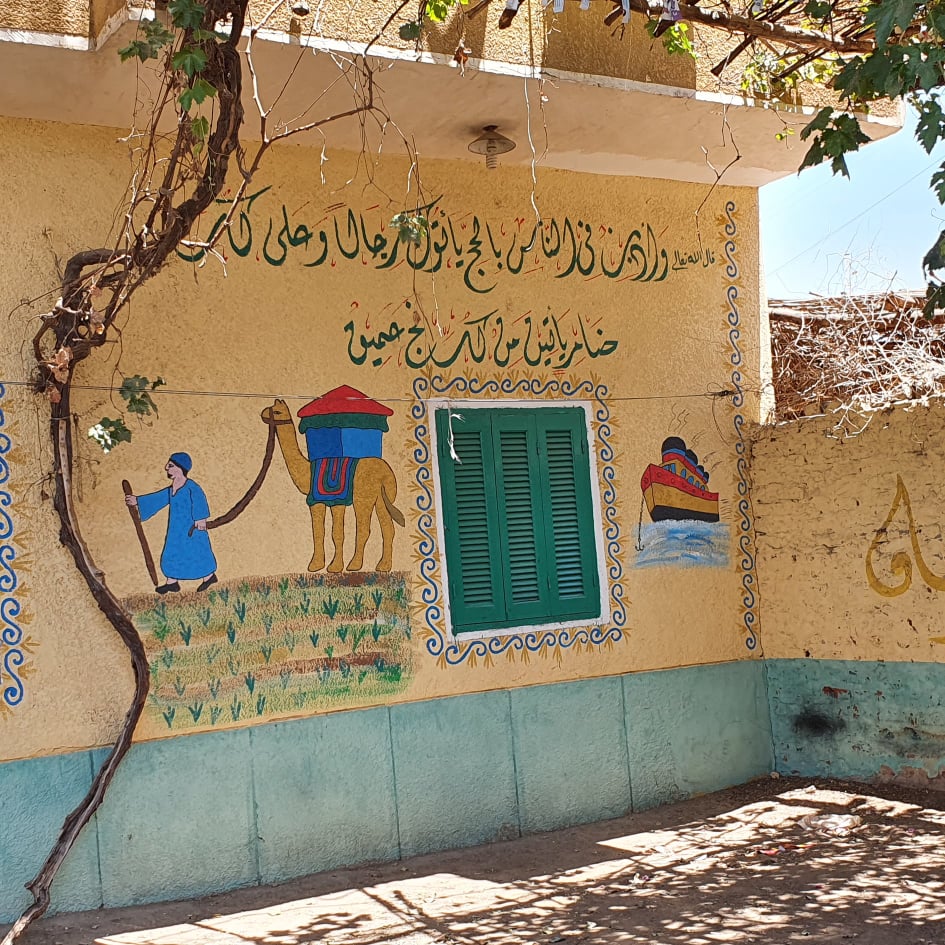 What`s the story?
The pilgrimage to Mecca is one of the five pillars of Islam. The Hajj is a duty set forth in the Koran. Every healthy adult Muslim (men and women) who can afford it must make the pilgrimage once in his/her life.
In Mecca, the pilgrims walk around the Kaaba counterclockwise seven times. The Kaaba is the first place of worship of the prophet Adam, where Abraham (Ibrahim in Islam) left his second wife Hagar and their son Ismail. This is where the graves of Hagar and Ismal are said to be.
In former times, Egyptian pilgrims brought with them a cloth woven with gold threads with which the Kaaba was covered. This so-called Kiswa was then cut in small pieces after the Hajj and sold to the pilgrims as souvenirs.
Particulary in Upper Egypt you will find that the pilgrim's house is painted in bright colors by his family and other villagers. The scenes are dominated by the Kaaba. The path to Mecca is shown. On older houses you will see donkeys or camels. Nowadays, it`s more likely to see ships and airplaines, since this is the quicker and simpler way to Mecca.
There is one scene on a wall in El Ezba on the west bank of the Nile in Luxor which makes me smile. A woman on a carpet. Who wouldn`t think of the magic carpet from 1001 nights?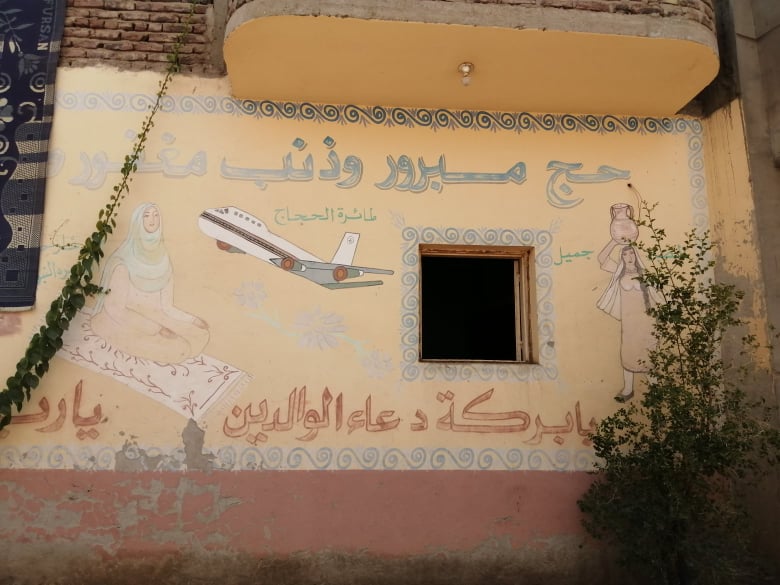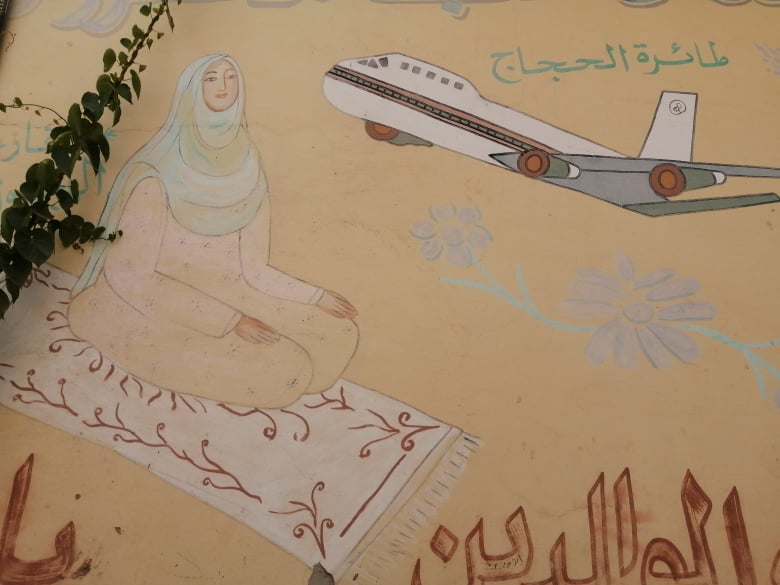 So, when you walk past a brightly colored house in Upper Egypt, you will know that a Hajj or a Hajja lives there. Hajj or Hajja is the respectful address of someone who has undertaken the pilgramage to Mecca.
When the pilgrims return there is a big party where the whole family, friends and neighbors celebrate the safe return of the pilgrim.
We`d be happy to show you the paintings, when you come to Upper Egypt.